Remote Control Functions Guide
The remote controls for your Clear Touch Interactive panels have many functions that a lot of customers are unaware of. Please reference the graphic below for a quick reference. These functions may be useful when troubleshooting issues related to the Clear Touch IFPs.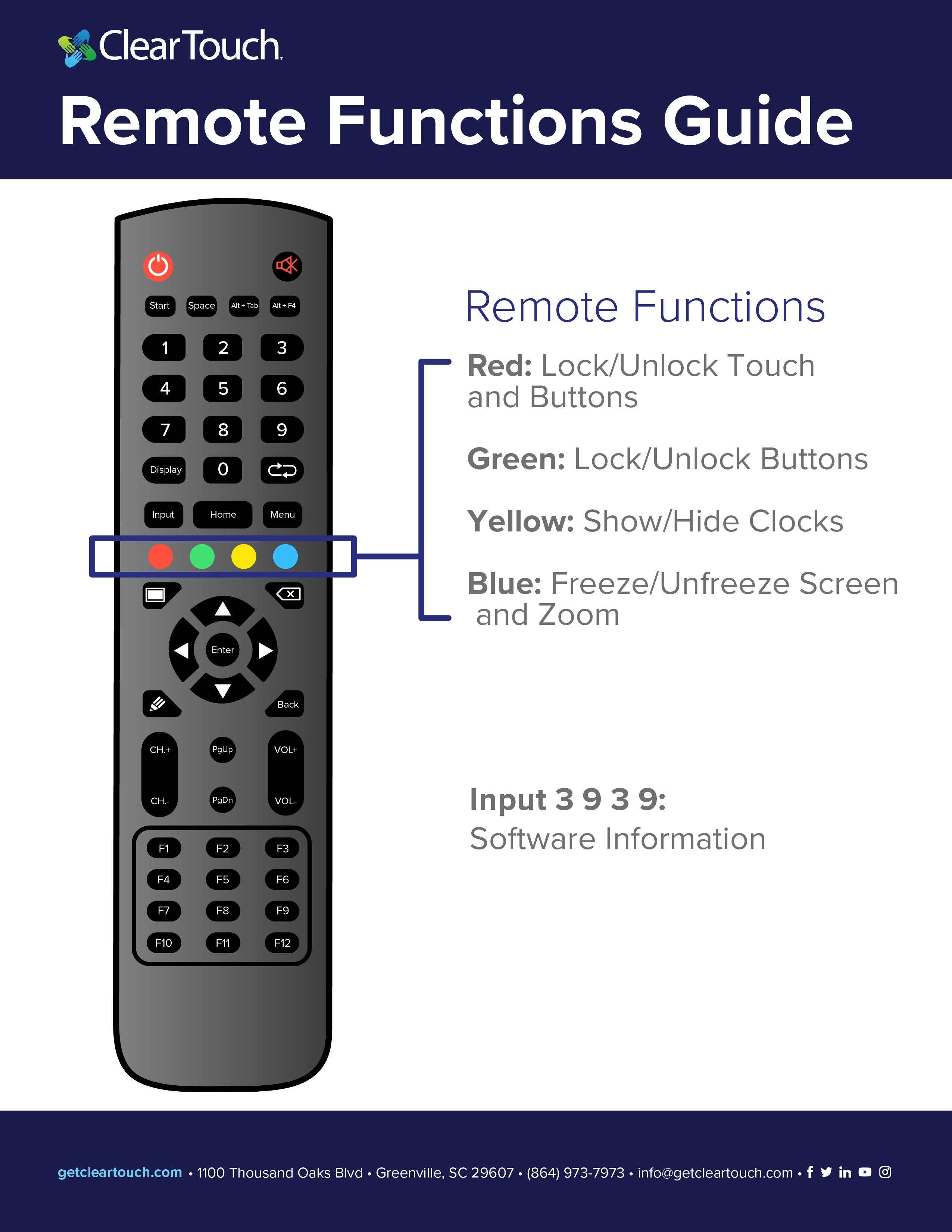 Related Articles

Use the Clear Touch Interactive Panel as a Secondary Monitor in Extend Mode

Using your Clear Touch Interactive Panel as a Secondary Monitor in Extend Mode ***For the best experience, we recommend mirroring or duplicating your display*** With Windows 10, Microsoft has given users the option of running multiple displays in ...

Using Screen Lock and Resetting Lost Password

6000+ Series displays include an Android app called Screen Lock, which allows the display user to set a password on the display and lock the screen down. To access this app, navigate to your Android Home screen and click the grid icon in the bottom ...

IP Panel Control Using Telnet

Clear Touch panels can be controlled via IP commands sent through Telnet. This guide will walk through the steps to establish a simple Telnet connection and how to input commands. First, please contact Support and request steps for accessing the ...

Android Recovery Screen

If your panel's Android operating system has been corrupted, you may see the screen pictured below when you attempt to turn on the panel. In order to resolve this error, you will need to select the "Factory Data Reset" option outlined in red in the ...

Correct Windows 11 Power Settings for Your Clear Touch Interactive Panel

*Please apply any outstanding Windows Updates ahead of time as updates may cause Windows to revert any changes* This article outlines the Windows 11 recommended power settings for Clear Touch Interactive Integrated PC Modules. These settings will ...